This page has the detail of the programmes and events organized by the CRE.
Click on the event title to see the gallery
Sandfly Training programme 2020: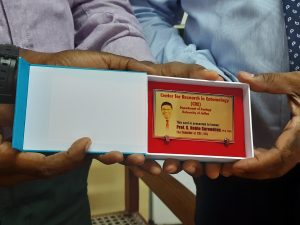 A training programme is organized by the Center for Research in Entomology, Department of Zoology on 27.08.2020 to six health staff from RDHS Anuradhapura. The training was facilitated by Dr.K.Gajapathy and assisted by Mr.S.Tharsan and Mr.S.Aranraj. The inaugural programme of the CRE was attended by Prof.S.Ravirajan (Dean, Faculty of Science) and Dr.T.Eswaramohan (Head, Department of Zoology) along with other staff from the department. Prof.S.N.Surendran was presented with a founder membership card as an appreciation for his efforts to establish the CRE.