Miss.S.Kokila  [Lecturer (probationary)]
B.Sc. Honours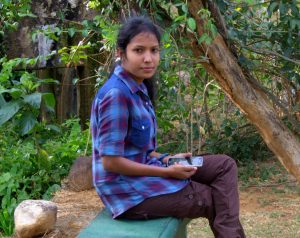 Contact: kokilasivabalan@rocketmail.com
Room No , Second floor, NSB II building
B.Sc. Honours in Zoology (University of Jaffna)
Reading for M.Phil (University of Jaffna)
Surendran, S.N., Sivabalakrishnan, K., Gajapathy, K., Arthiyan, S., Jayadas, T.T., Karvannan, K., Raveendran, S., Karunaratne, S.P. and Ramasamy, R., 2018. Genotype and biotype of invasive Anopheles stephensi in Mannar Island of Sri Lanka. Parasites & vectors, 11(1), p.3.
K.Sivabalakrishnan and S.N.Surendran (2013). Subchronic toxic effect of Lorsban® on tropical freshwater fish Anabas testudineus: in relation to hematological and biochemical changes. Proceedings of the 33rd annual sessions of the institute of biology, Abstract No: 1-38.
K.Sivabalakrishnan, A.Thileepan, R.Manivasakan, K.Gajapathy, SH.P.P.Karunaratne, R.Ramasamy and S.N.Surendran (2017). Proceedings of abstracts, National conference on insect vector biology-2016, University of Jaffna

My research focus is on animal physiology and I have worked on fish toxicology, cytogenetics and population genetics of Anopheles mosquitoes. I'm currently involved in a project of Anopheles mosquitoes from Sri Lanka.
Grants:
University Research Grant-2019: (URG/2019/SEIT/21)